Let Our PROVEN HIGH CONVERTING SALES FUNNELS Put CASH IN YOUR POCKET!!!



As you can see from the screenshots - OUR PRODUCTS CONVERT!

Your People Will LOVE YOU For SHOWING THEM THIS!!
OUR NEWEST COURSE RELEASE!
"Custom Template Treasure Chest"
Your Subscribers' Personal Road-Map to

ONLINE SUCCESS!
Our SIMPLEST Business Yet!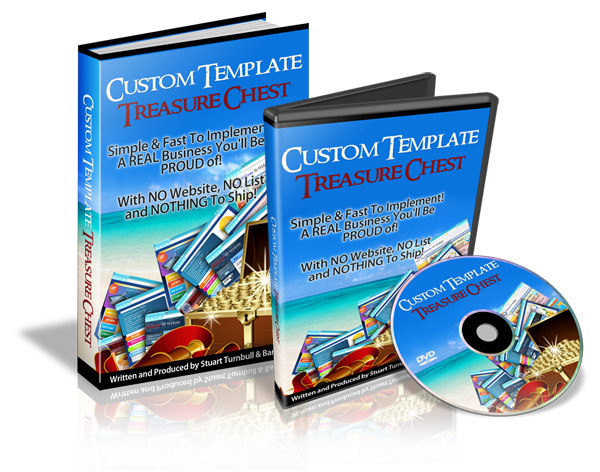 Following all of the negative press regarding PayPal account shutdowns we have decided to use ClickBank for this product. ClickBank is an ultra reliable platform that has been paying affiliates every week directly to their bank accounts since 1998!

You can get your affiliate link below
OUR HIGH CONVERTING SALES FUNNEL!
You receive 50% after ClickBank fees

AND WE GIVE YOU PLENTY OF SUPPORT & MARKETING TOOLS!
Banners

Graphics

Email Swipes

Coupons (upon request)

PROVEN Marketing Tips

And More!
What Is "Custom Template Treasure Chest"??
C.T.C.C. Is a POWERFUL, HIGH-QUALITY, MULTI-MEDIA, step by step course that shows people how to make anywhere from $4,142 to $16,910 PER MONTH (documented)
offering PRINTABLE RESUME TEMPLATES on ETSY.
This market is EXPLODING!!!
(And it's simple to do this business!)
LET ME ASK YOU A SILLY QUESTION...
If YOU Could Show YOUR Subscribers An Evergreen, Downloadable Product That
MILLIONS OF PEOPLE DESPERATELY NEED...
...A Product That EASILY Sells For $10.00, $15.00, Even $30.00 EACH!!! Again & Again & Again...
And YOU Show Them Where They Can Get This Valuable Product For FREE !!
Do You Think Your People Would Adore You? YOU BET!!
Do I Have Your Attention?
THIS BUSINESS IS...
SUPER SIMPLE TO IMPLEMENT! NEWBIE FRIENDLY! FUN! & RECESSION PROOF!!
In a BOOMING economy, this product sells like crazy!!
In a DEPRESSED economy, it sells EVEN BETTER!!!
BEST OF ALL...
Your Subscribers Will Be Helping People DESPERATELY IN NEED Who Want To "Make Better Lives" For Themselves & Their Families...
& GETTING PAID HANDSOMELY For Doing It!
This Is A BIG Money Business Model That Practically Runs Itself (after set up)!
YOUR SUBSCRIBERS CAN DO THIS LUCRATIVE BUSINESS WITH
NO ADS!
ZERO SHIPPING!
ZERO Inventory!
NO TECH SKILLS!
& NO WEBSITE NEEDED!
And Your People Will THANK YOU For Showing Them This!!
NEWBIE FRIENDLY! - Your people don't need any design skills or previous experience!
FAST TO SET UP! - Your people could be making money as quick as THIS WEEK!
SUPER SIMPLE BUSINESS MODEL! - This product is DIGITAL, super simple to create, and in SUPER HIGH DEMAND!
No Paid Traffic Needed!
No Ads!
No Website Needed!
No Monthly Fees!
No Facebook Needed!
No Tech Skills Needed!
You don't even have to TOUCH any products!
EVERTHING IS SET UP TO BE AUTOMATED!
GET YOUR FREE MARKETING TOOLS BELOW!!
If You Have Any Questions Or To Request a Review Copy!
Make excellent online income without ever shipping a single product!
Your own lucrative online business with NO website, NO list and ZERO tech skills required!
A Unique Online Business That Is Profitable AND fun? With NO Website Needed?
Making Money Online Doesn't Have To Be Complicated! Here's A Fun Business You Can Start NOW!
Want A Unique, Fun & HONEST Online Business Your Friends Will Be Jealous Of?
A ZERO inventory business that makes you money while you sleep?
Do you remember the "good old days" when you could make great profits and build your email list selling digital products on eBay?
Yes, so do I!
Unfortunately eBay moved the goal posts and this lucrative income stream dried up.
Today, I can announce - the good old days are back!
Etsy is a marketplace that makes it easy for you to build a profitable business selling digital products.
Most people are familiar with Etsy as a rapidly growing marketplace (31 million unique monthly visitors as at Oct. '18) that showcases the handmade creations of a legion of sellers based all over the world - but handmade crafts aren't the only things you can sell on Etsy………..No, Etsy also allows the sale of digital products (think - downloadable worksheets, craft patterns, printable art, ebooks, party invitations etc. etc. as opposed to physical items that you ship to your buyer).The great thing about selling digital products on Etsy is you create once and profit over and over while Etsy handles all of the product hosting and delivery for you!
If you want a business that……
-You can be proud of
-Requires NO website
-Makes you automated income literally while you SLEEP!!
-Will leave your friends in AWE!
-Has ZERO inventory to carry
-Has ZERO shipping costs! (IN FACT you NEVER ship ANYTHING!!)
-Has ZERO product costs (you can get everything you need for FREE!)
-Has ZERO fulfillment (this is automated - you don't even need to email your customers!)
-Needs NO list and NO technical skills
-Is a complete "set and forget", "autopilot profits" generating system!!!
-Has a "built in" method for automatically generating REPEAT SALES!! (again WITHOUT you ever having to email your customer!!)
You NEED to check this out NOW…………..AFFILIATE LINK
Stuart Turnbull has partnered with Bart Hennin to create an ebook and video course that teaches in an easy to follow, step by step way exactly how to build your own, highly profitable business selling digital products on Etsy!
I urge you to move fast and grab this now before the special launch pricing expires; AFFILIATE LINK
When I saw this lucrative and unique money making blueprint, I was astounded!
It blew me away at how profitable and simple it is!
Imagine having a "consumable" product (you can get for FREE) that people crave and will pay you good money for, again and again and again where you...
-Never ship anything
-Need NO website
-Need NO list
-Need NO tech skills
-Have immediate access to hungry buyers
-And once set up, everything is automated!
-Will leave your friends in awe
Well imagine no more because Marketing experts Stuart Turnbull & Bart Hennin have made this business model a reality...And they're spilling the beans and revealing all!
Go here for complete info [AFFILIATE LINK]
Here's the scoop...
A while back, Stuart and Bart observed something powerful...
That people were (and are!) spending big money on PRINTABLES... You know... digital files (created using FREE software) that your customer simply downloads and prints out at home.... As you may be aware, this market is exploding and has become a highly profitable niche!
Stuart and Bart reveal a number of FREE online tools you can use to generate your printables easily but they don't stop there... Far from it!
They also show you...

-How to create a specific TYPE of CONSUMABLE printable people are going CRAZY for, where the market has exploded and is still growing!
-How to get your printables automatically seen by buyers
-How to virtually "automate" everything so it's "set & forget" (HINT: They use ETSY as their selling platform and they show you step by step how to do the same!)
-How to get started making money as fast as possible!
-And much more!
To find out the EXACT kind of printables Stuart & Bart have discovered to be so profitable, check out this page NOW
[AFFILIATE LINK].
(I'm not sure how long the page will be up).
PS - This idea is, in fact, the nearest thing I have come across yet to a fully automated business - once you have created your range of printables, using the free software, the selling platform (Etsy) takes care of everything else! Get your complete blueprint here
[AFFILIATE LINK]
I wrote to you a few days ago about a unique online business that literally makes you money while you sleep!
AFFILIATE LINK
Stuart Turnbull's latest ebook and video course teaches you, in an easy to follow step by step way, exactly how to profit from digital products that you create once and sell over and over.
Stuart leaves no stone unturned. His latest release is a great antidote to the "make easy money online" BS that is everywhere these days. It is totally newbie friendly, has some awesome included bonuses and is FULLY guaranteed.
I urge you to check it out NOW before the special launch pricing expires!
AFFILIATE LINK
I've just finished reviewing Stuart Turnbull's latest ebook and video course "Custom Template Treasure Chest" and I couldn't wait to share my thoughts with you!
This course is all about selling printables online - "what is a printable?" I hear you ask!
Think consumable documents like; worksheets, planners, craft patterns, party invitations, resumes, calendars etc. etc. (this list is only limited by your imagination!) that you create on your computer and sell as a digital file - your customer simply downloads it and prints it at home.
The unique thing about selling printables is that you create your product once and profit from it many times (an unlimited number of times!!)
You never ship anything to your customers and, best of all, you don't even need a website!
This idea is, in fact, the nearest thing I have come across yet to a fully automated business - once you have created your range of printables the selling platform (Stuart uses Etsy) takes care of everything else - that said please don't think that you can set this business up with no work - of course there is work involved - if you want to sell a lot of printables you will need to create a good range of designs and this will take a fair amount of work.
If you are thinking that this idea is of no interest to you because you aren't arty - then think again - Stuart has put together a package of top quality videos that teach ANYBODY how to create extremely salable designs using FREE online tools without the need for any artistic talent whatsoever!
Stuart's course also walks you through the finer points of setting up your Etsy shop, listing your printables and driving traffic to them.
The course is chock full of examples of successful Etsy shops that are absolutely killing it with this business model!
Oh! And did I mention the BONUSES?
- there are several well written bonus ebooks that add real value to this course (NOT your usual rehashed private label rights rubbish thrown in simply to pad out the package).
The whole package is worth way more than the asking price and is topped off by a 30 day refund guarantee if you are disappointed - I'll be amazed if anyone actually takes Stuart up on this because this package is GOLD!
To sum up, "Custom Template Treasure Chest" gets my full and enthusiastic endorsement - this is a REAL business that ANYONE can set up and make great, ongoing profits!
AFFILIATE LINK
Product Graphics and Links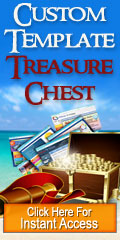 <a href="AFFILIATE LINK HERE"><img src="https://customtemplatetreasurechest.com/wp-content/uploads/2018/11/120x240-2.jpg" /></a>

<a href="AFFILIATE LINK HERE"><img src="https://customtemplatetreasurechest.com/wp-content/uploads/2018/11/120X600.jpg" /></a>

<a href="AFFILIATE LINK HERE"><img src="https://customtemplatetreasurechest.com/wp-content/uploads/2018/11/125x125.jpg" /></a>

<a href="AFFILIATE LINK HERE"><img src="https://customtemplatetreasurechest.com/wp-content/uploads/2018/11/160X600.jpg" /></a>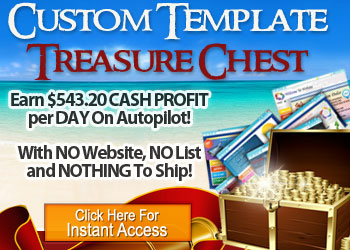 <a href="AFFILIATE LINK HERE"><img src="https://customtemplatetreasurechest.com/wp-content/uploads/2018/11/350x250.jpg" /></a>

<a href="AFFILIATE LINK HERE"><img src="https://customtemplatetreasurechest.com/wp-content/uploads/2018/11/468X60.jpg" /></a>

<a href="AFFILIATE LINK HERE"><img src="https://customtemplatetreasurechest.com/wp-content/uploads/2018/11/728x90.jpg" /></a>